As many Russians, I do not have a clear picture of my family tree, but I have an intension of making one, and as soon as I do - I will publish it on this page.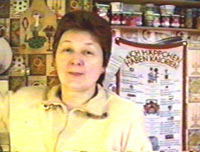 My mother is a very interesting person, who does many things - since on of them is paintings, she also has her own virtual picture gallery. You can contact her at anna@soshnikov.com.
Her mother, one of my grandmothers, is Tatyana Yakovlevna Chada, who also has a sister Marina Yakovlevna Ralko.

I also have an elder brother Leonid, who is married to Katrin from France, and they have two children.
More Information will be available soon.